【Cold Udon with Chicken & Lemon】Serving for 1 people
★Using HYOSHIRO DASHI & WAKAME (SEAWEED) UDON
Step1.
Boil the noodles for 10 minutes, and then put them in ice water. Cut chicken into bite-sized pieces. Soak chicken in a pot with item A for 5 minutes.
Step2.
Boil the HYOSHIRO DASHI over medium heat for 5 minutes, add the chicken and cook, then remove from heat and allow the broth to cool.
Step3.
Cut off the roots of kaiware daikon (radish sprouts).
Step4.
Place noodles in a bowl, top it with item 3 and lemon, and pour item 2 over the noodles.
【Ingredients】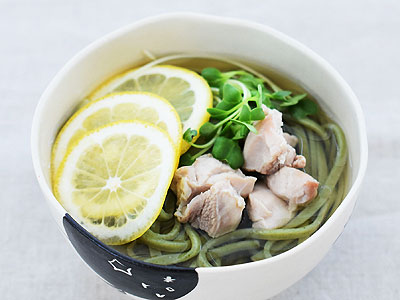 Chicken thigh meat … 50g
Lemon (sliced into thin slices)…3 slices
Kaiware Daikon/radish sprouts (or vegetable of your choice)…As needed
2 bunches WAKAME (SEAWEED) UDON
Item A.
HYOSHIRO DASHI…1 sachet
Water …200ml
Enjoy cooking♪